Winston was born out of a desire to introduce a quality of dining that is sophisticated yet approachable. Executive Chef Michael Williams has created a menu of New American fare that offers familiar favorites as well as innovative new dishes, all elevated through high quality ingredients and refined execution. To complement the fare, Winston's impressive beverage program features a deep roster of new and old world wine varietals, rare vintages, handcrafted signature cocktails, and dozens of draught and bottled beers.

The 81-seat restaurant, designed by award-winning firm Grandberg & Associates Architects, features three-levels including the only open-air rooftop bar and lounge in Mount Kisco. Like Winston's food and beverage program, the design is all about detail and balance. The space is outfitted with steel, brick and wood detailing, as well as an atrium skylight that lends a feeling of comfort and warmth against Winston's solid warehouse aesthetic. Varied seating on each level allows for different experiences throughout the restaurant: a gastropub ground floor, a more intimate dining experience on the second floor, and a seasonal rooftop bar on the third floor. Guests will feel at home inWinston's comfortable townhouse setting. The restaurant is located in downtown Mount Kisco, just a brief walk from the Metro North train station, and offers ample parking in the back.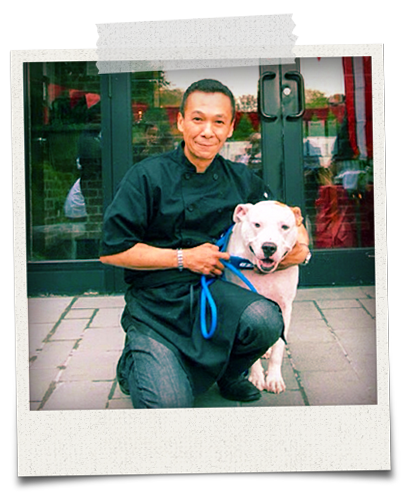 Meet Chef Michael Williams
Michael Williams spent his early years living and traveling throughout Asia before moving to the United States in 1989 to attend Kenyon College in Ohio. Upon graduation, Williams took a job at a local Italian restaurant in Westchester, New York, spurring an initial interest in cooking. In 1997, Williams moved to New York City to attend the French Culinary Institute as a pastry student. For nearly a decade after, Williams did stints at a number of acclaimed restaurants around Manhattan, including Oceana, DB Bistro, Mirezi and Park Avenue Café, where he worked under Chef Neil Murphy, whom Williams credits as a mentor and inspiration in the kitchen. During his time in New York City, Williams was able to refine his skills and gain experience in cuisines from around the world, as well as a deep understanding of ingredients, preparation and technique.
In 2006, Williams took an opportunity up north in Bedford Hills, New York as chef/partner of The Perennial Chef, a café and catering company serving healthy and local gourmet prepared foods. The Perennial Chef was widely recognized as a local favorite before it closed in 2012.
Today, Michael Williams is the executive chef of Winston Restaurant in Mount Kisco, New York, where he is excited to bring the community approachable and honest New American fare, prepared with the highest quality ingredients. Williams' menu seeks to reflect the region's history of craftsmanship, featuring familiar favorites that are elevated through bright, balanced flavors and refined execution.